I am back!!!!!!
It was 2 weeks that I have been without internet connection. I miss everyone here specially my good friends. So sorry to have worried you, ladies. I am so happy to be back!!!!! I got several packages while I was away. I was able to do lots of crocheting and beading as well.
The first package is from Stacey. Thank you Stacey for the CD and the beautiful card. I got your package several days before my birthday. Thanks for remembering, my friend!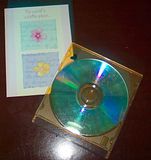 I got 2 packages from the Mania swap. First is from the doily swap. My partner is Trish. She sent me a beautiful doily in variegated colors which I love. I have kept it for now and will display it when we finally have our own new home.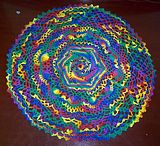 The second one is from my best buddy Fiona for the accessory swap. You've outdone yourself, Fiona!!!!!! I love love love everything you made for me!!!!!!! She sent lots and lots! My friends from Joshua's school loved them too! Thank you so much, Fiona! I'll mail out your package soon.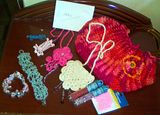 The next are from good friends Monica and Jeng. Thank you so much ladies for remembering my birthday. Monica sent a couple of beautiful and elegant jewelry boxes. The kind that you can only find in expensive shops here in Manila. I love them, Monica! I will be putting jewelries which Mom passed on to me in those boxes. I'll remember you each time I see them. Thanks too for the wonderful smelling soap and candle and for the beautiful card.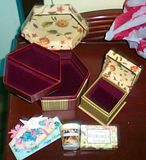 Thanks, jeng for the Cd and the wooden beads which I have been looking for here in Manila. I'll find a good project to use them. Thank you, mi amiga!!!!!!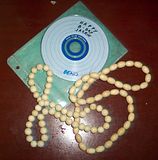 And these are some of the things I have made while I was away. I am also crocheting a doily using size 30 thread for the swap and a couple more. Oh, and I am happy to know that Mirand has gotten the bookmarks I have sent for the swap. You're welcome, Miranda! My favorite is also the butterfly.