cellphone cozy and shawl progress
I made this cozy for my sister who loves lavender color. It took me about 2 hours to finish this. I got the fun fur from a private swap with my good friend Fiona and I just love working with eyelash yarn!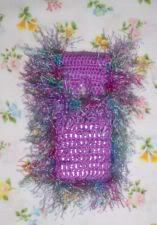 A work in progress of the Spring Has Sprung Shawl.......I ran out of thread........need to buy more. I figure I'll need 2 more balls to finish this. I got 8 more rows to go to make it 60" across.