2 PACKAGES ON MY BIRTHDAY!!!!!
I went to our post office to send ordered threads from me when the post office employee who knows me told me that there are a couple of packages waiting for me. Wow! 2 Packages on my birthday! One is from Kimberly (Woven N Spun) for the recently concluded Summer Secret Pal. It was sent last June 15 then the package was sent to another post office that's why it took this long. Anyway, it was worth the long wait! Inside were goodies for me and also for Joshua. Here is what she sent: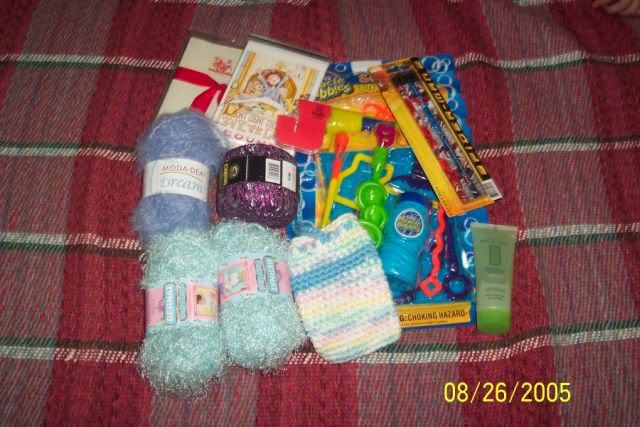 I got 2 skeins of mint BERNAT Baby lash, 1 Moda Dea Dream in lavender, 1 Caron Fabulous railroad ribbon yarn in Misty violet. She also sent some note cards and a letterJ post it, a pastel shade crocheted pouch (so beautiful and soft!), Avon hand gel, bubble maker and spiderman pencils for my Joshua which made my son very happy.
The second one is a Christmas in July package from Fran. She sent a couple of vintage thread pattern books which could never be found here. The titles are Crochet Craft's Collection of Crochet Patterns and Crochet D'Oyleys ( a reproduction from an original 1902 publication....wow!!!!) and 3 packs of Goody Ouchless Elastics in different sizes. Thank you so much, Fran!!!!!