Beaded Flower Motif pattern
I made this flower motif last year to make a scarf for woolandflax who was my partner for the summer scarf. She wanted it in variegated lavender and I made her a long scarf. I wasn't able to take a picture of it as I didn't have the camera with me and I was in a hurry to send it to her as it was almost the deadline. Kimberly (Woven N Spun) asked the pattern for this and I was hoping she'd post the pattern on her blog but she didn't so here it is. She made her version using variegated threads using 2 strands of size 10 and it turned out very pretty. It can be used as a belt as well.
Beaded Flower Motif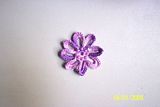 Materials:
small amount of size 10 cotton thread
8 pcs 4mm pearls or size 8 seed beads in matching color
size 2 steel hook
gauge is not important
Row 1 - Chain 5. Join to form a circle.
Row 2 - Ch 3. (Counts as first dc) Dc in next st drawing a bead in last thread over. Dc in next. Do this until the last dc with bead. Join to top of ch 3. (8 dc's and 8 bead dc's)
Row 3 - Sc in same st. Ch 10. Skip 1 st then sc in next st. Do this 8 times. Sl st in first sc. (8 loops)
Row 4 - Sl st in first loop. 2 sc, 3 hdc, 4 dc, 1 trc, 4 dc, 3 hdc, 2 sc in first loop and in remaining loops to form a flower. Join. Cut off and weave in ends.
You can join them by sewing the motifs together in the trc of 2 petals to the next 2 trc petals of the other motif.