Since Bonnie has finally gottern her shawl, it's safe to post the Butterfly Shawl I made for her. I tried 2 patterns with beads and wasn't happy. Finally decided to use a revised version of the Spring has Sprung Shawl and used the Butterfly motif from Designer Fashions. I used Monaco Raylon thread in gray and size 8 hematine-colored glass seed beads. The crocheting and stringing of the beads took about 2 hours for the edging and about 3 hours sewing on the beads for the motif. It was worth it as Bonnie was happy. It was hard to part with this. lol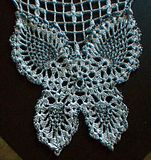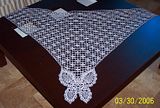 I had to bribe Joshua with some candy so he will agree to try this and then have his picture taken. I wanted to see what this looks like when worn as this is for my niece. I don't do much wearables except for ponchos and shawls so this is new for me. I only know my niece's chest measurements and had to guess the rest. I made a mesh-type of sarong as I don't know how to make a matching bikini bottom. lol!
Luckily, my SIL liked the set.