Flip flops and got mail!
Here's another pair of flip flops ordered from me. She wanted one in blue.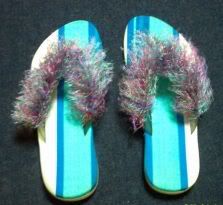 Got this beautiful rainbow boucle from my good friend Fiona.....also some patterns and a big bar of Reese peanut butter which was immediately claimed by Joshua and some pretty jewel cards. :-))))) I'm torn between making a seraphina shawl or another open mesh shawl with the boucle.