YAY!!!!!! All 3 done!
I rushed to finished these 3 bracelets since I have to deliver them this Sunday. The first one is of course the Amethyst cuff in a size 7". The second one I am calling Spring Garden bracelet. I used size 8 seed beads in 3 green finishes and the flowers are all glass beads with yellow size 11 seed bead center. Last but not the least is my version of the caterpillar bracelet. This one is made using size 6, 8 and 11 seed beads in 5 shades of red. After making the loop base, I added clear and red glass bead shapes for accent. This one took me the longest time to finish.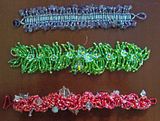 These were all custom made orders. I will be posting these at my jewelry site
here
.